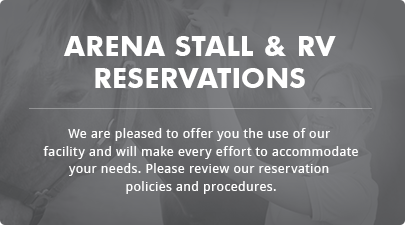 CONTACT US TO MAKE YOUR RV & STALL RESERVATIONS
For more information, please read or download our RV & Stall reservations policy below and call our office to make your next reservation.
Download West-Cal Stall & RV Policies
Stall & RV Policies.pdf
Adobe Acrobat Document
32.9 KB
West-Cal Arena Stall/RV Reservation Policies and Guidelines
1. Reservations must be called in during business hours, Monday-Friday at 337-528-9378.

2. Shavings are not required at the West-Cal Arena but may be purchased from the Arena as needed.  No outside shavings will be allowed at the facility.  

3. After hour arrivals must be paid in full.  At no time will any stalls or RV's be unlocked without full payment.

4. Check-in time for stalls and RV's is 3:00PM (early arrival fees may apply).

5. Rates
Stalls - $15/night
RV's -  $20/night up to 30 amps;  $30/night for 50 amps
Early RV's - $25/night up to 30 amps; $35/night for 50 amps
Shavings - $7.50/bag

6. For emergencies, please contact the after hours manager-on-duty listed at the ticket window at the front of the building.